Factory Direct Sale U8 Bluetooth Smart Digital Wrist Healty Watch Phone Mate For Android&IOS Iphone Samsung LG Sony Smartphones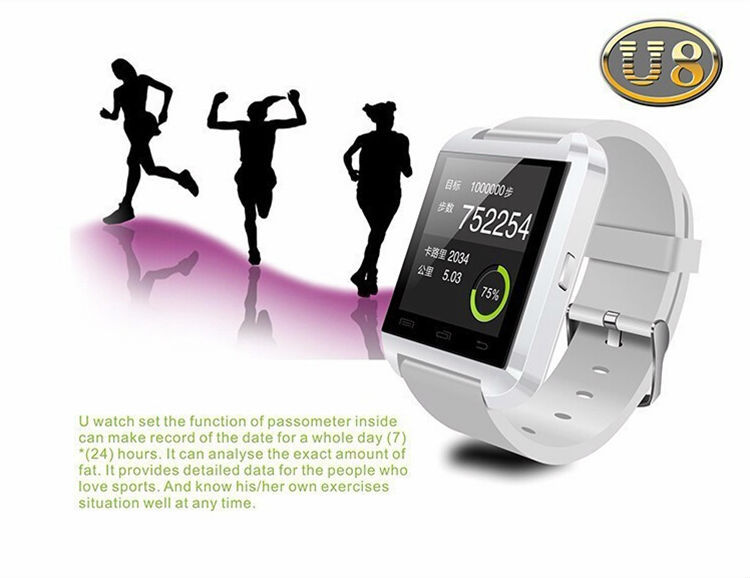 ALL watch functions work with android phones android 2.3 and up FOR IPHONE SOME FUNCTIONS WILL NOT WORK: you can pick up calls, see the phone number, and listen to your music, besides all other watch functions like altmeter,chronometer,alarms, lost alarm etc. But it will not sync with your phone book so if you get a phone call the number shows up but not the persons name, you can pick up and answer but it's not synching with your for iphones software.Some other functions that work on android may also not work on your particular . Just be aware, its a great watch even for iphone, but you may not get the full 100% out of this watch, maybe more like 85-90% of fuctions which is still pretty good for this price.
BRAND NEW U8 BLUETOOTH 4.0 SMARTWATCH.
COMPATIBLE WITH BLUETOOTH 2.0 AND UP GOOD FOR TABLETS AND SMARTPHONES
COMPATIBLE WITH IOS SUCH as for IPHONE 4,4S,45,5C,5S,6 and ANDROID 2.3 SUCH as for Galaxy S3,S4,S5,S6,Note 2,Note 3, Note 4, Etc
Specifications:
BLuetooth Version:Bluetooth V4.0
Talk TIme: About 3 hours
Charging Time: About 1 hour
Music Play time: About 6 hours
Standy Time:About 160 hours
Ambient Noise <75db Transmitting
Range >10M
Range of Frequency 2.4Ghz Spectrum
Language SUpport:English,Chinese
Bluetooth Protocol:A2DP +HFP 1.5 +HS P 1.2
Power SUpply: Built-in 230Mah rechareable Battery
Features: 1.48″ Capacitive Touch Screen TFT LCD
Material: Steel + Silicon
Stopwatch Function
Supports Hands-free Calls
Time/Date/Week/Battery state Display
Answer or Dial calls from your wrist
Ringing Reminder when you receive a call
Display the number or name of incoming Calls
Play the music in your phone(after bluetooth paring)
Ringing Reminder once your mobile phone is disconnected
Sync phone book/SMS/call history(only for android phone)
Android Systems can support all the functions in the description;
BUt ISO only support, Passometer, Calendar, Call Sync,Calculator,Clock, Stopwatch Altitue Meter, Passometer, Photograph, Barometer, Vibration
Remote Taking photo Function: You can control your cellphone to take photo from your wrist Ringer reminder when your Android 2.3 or above smart phone receives a message (including wechat,facebook,twitter,whatspp,skype and so on
Anti Lost alarm function:When cellphone is left the watch alarm goes on automatically helps you avoid losing phone Compatible with: All Bluetooth V2.0 or above enabled smartphones,tablets and PCD's(supports ANdroid 2.3 or above)such as for iphone 4,4,S,5,5S for Samsung S3,S4,S5,Note 2,NOte 3, NOte 4
Dial SIze 4.6X4.2X1 CM/1.81 X 1.65 X.39 inches
Package Contents:
1 Smart Watch
1 USB charger Cable
1 User Manual