JOVY RE7500 BGA rework station,RE-7500 BGA soldering machine Jovy system welding machine
RE-7500 Features
NOTICE: if products in stock, you will get it within 1 week, if products out of stock, you have to wait about 40-60 days
? Dark infrared ceramic emitters:both the reflow and the pre-heating heating source are IR emitters in range from 2µm to 8µm wavelength. It suites most of the components and application materials (plastic, ceramic, aluminum …etc.).

? Safe and compatible for tough lead free applications.
? Safe for the adjacent components.
? Homogeneous heat distribution.
? Controlled and focused heating range through upper heater reflectors.
? Efficient for future sophisticated technologies in IC packages and soldering alloys design and materials.
? Heaters are German made with more than 100000 working hours ? 3 years in average

? Laser pointer ensures the heating energy delivered towards the target area precisely and accurately.
? Pick?up tool facilitates the component removal very safe with complete control, whatever the component temperature is.
? Temperature reader equipped with a sensitive thermo couple for a real time temperature reading with tolerance of +/-2°C.
? Three operating modes: manual mode, software control mode and process stages profiling mode.
? Built in cooling fan fitted in advanced mechanical design to provide safe indirect cooling source for reworked application.
? Boards X/Y table: equipped with the machine in free portable movement design for unlimited usages, serves application preparation and rework.
? Body and components: built with high quality components and materials which guarantee both long life durability and user safety.
? Warranty: one year from the date of purchase with lifetime full application support and technical support.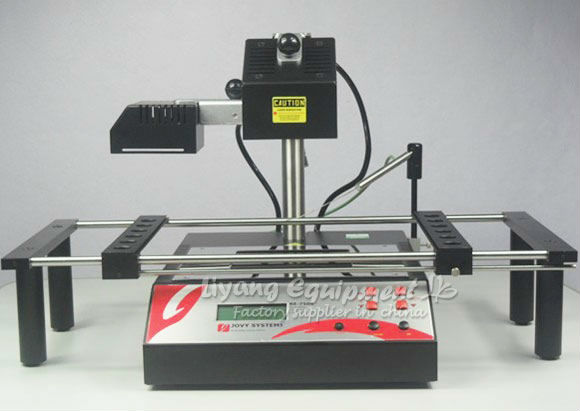 Specifications
| | |
| --- | --- |
| Upper heater Power | &nbsp300W |
| Pre heater Power | &nbsp600W |
| Voltage frequency | &nbsp220 volts 50/60 HZ |
| Max board Size | &nbsp300mm x 300mm |
| Weight | &nbsp14KG |
Software Features
? User interface allows easy control for all the RE-7500 features in addition to monitoring the process time with temperature real time display.

? Fast streaming USB connection.
? Monitoring the temperature readings of the process in a real time.
? Running process graph with time elapsed guide.
? Adjustable alarm temperature set point.
? Operating the upper heater in both normal and park mode.
? Controlling the cooling fan in both normal and park mode.
? Uploading default machine settings.
? Three built in profiles restored in the machine.
? Adjust safety threshold temperature set point.
? Change the temperature unit from Celsius to Fahrenheit and vice versa.
? Process stage profiling interface allows to run a complete process which consists of three stages: pre-heating, Soaking and Reflow in one step profile.

? Download and upload unlimited number of ready-made or user profiles.
? Complete control of machine mode and both heaters modes in each stage of the profile.
? User message could be created for each profile stage.
? Process settings graph option for user analysis before running each profile.
? Saving unlimited number of run process graphs for user analysis and process development.
? Upload any three created profile to the machine memory and run it manually.
? Retrieve any profile stored in RE-7500 memory to run it through the interface